Waree's 3rd-4th week of the month. Thai traditional therapy massage training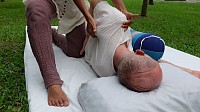 Thai therapy massage course schedule 
Thai therapy massage (15 common symptoms),
10 days (within 2 weeks), 60 hours.
Begin every 3rd week of the month,
Monday - Friday (Sat. and Sun. off)
From 9:00 until 16:00 (1 hr. lunch break)  This course require 2 students minimum for the class to begin. 
Cost THB 10,000 per person
(Aprox. €275/$300)
Day 1:  Introduction of Thai therapy massage 15 common symptoms
   -  Principle of therapy massage the Thai way
   -  Analysis of mechanisms of disease and symptoms through the eyes of the Thai traditional medicine theory. (unbalance between 4 basic elements as the origin of diseases)
   -  Determining your own balance of these elements and your classmate's.

Day 2:  Ankle Sprain, Prevention for cramp

Day 3:  Leg pain, Knee pain, Hip pain

Day 4:  Back pain , Stiffness of interscapular muscle


Day 5:  Neck rotation blockage, Neck pain, Head pain

Day 6: Shoulder pain, Frozen shoulder, Arm pain

Day 7:  Elbow pain, Wrist pain, Finger pain

Day 8:  Abdominal discomfort, Constipation, Prevention of menstruation pain (Dysmenorrhea)

Day 9:   Symtoms, Vertigo, Nausea, Migraine Headache. Syncope/Fainting

Day 10: Practicing & Question
Prerequisite:
 This class requires an experienced Thai massage practitioner.  As the flow of this therapy massage would need to combine with some relaxing massage techniques to offer a normal flow with a therapy approach. 
 This course require 2 students minimum to start the class.