Thai Traditional Massage Treatments by Waree
She offers 2 types of integrated treatments.

Integrated in this case means that Waree uses different techniques as the massage unrolls. It is about presence and improvisation.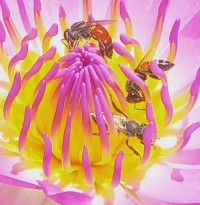 Massage for Therapy, Combination of Treatments.
Waree combines different massage methods and techniques in the same massage session. Thai, Abdominal, Foot reflexology, Herbal ball or herbal oil.
During your treatment, she would perceives what is appropriate and necessary for you and will modify accordingly your massage treatment to your specific needs and conditions. Both relaxation and specific acupressure points.
2 hours. Price THB 1,000 
(approx. €28/$30)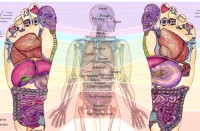 Deep detoxifying treatment, the combination of Abdominal massage and Foot reflexology massage.
This combination of treatments is used to accelerate detoxification of the body system by stimulating reflex zones on the foot, specified work on areas of blockage and to promote the draining of toxins from the system. This process is followed by an abdominal healing massage that wakes up internal organs directly and improves the detox process. The session ends with working on energy lines or points that need to facilitate the flow. This type of therapy is suitable for people who are in a detox period or program.
2 hours. Price THB 1,500 
(approx. €41/$45)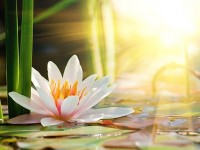 Classic Massage Treatments
This is where you can specify your need for massage as you wish.
If Waree is more known for her integrated treatments you can also choose to concentrate on a specific approach and technique. Waree proposes 4 types of massage treatments: Abdominal Healing Massage,  Thai Foot Reflexology massage, Therapeutic Thai Massage, and Thai Oil massage.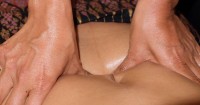 Abdominal Healing Massage
Abdominal massage treatment requires more than 1 hour of intensive work only on the abdominal area. Gentle movement to the intestine, colon, and internal organs, open up blockage points and work along each 10 main energy lines on the belly area. This helps to release the internal organs blockages within every layer of the abdomen. The rest of the time is spent consciously working on detoxifying techniques such as hot herbal ball compress. Afterwards, she would consider what is appropriate for each individual, working on specialized techniques for our clients.
Preparation to massage
You should not have eaten at least 2 hours before this massage. Please advise your therapist about any specific medical conditions that you may be experiencing, before, or at the time of your booking. The benefits of your massage solely depend on each individual state of health and their bodily response to the massage. Treatment must be taken without expectation, allowing your therapist to work with you the best she can. 
Post massage
We recommend for receivers to work on a colon cleanse or any form of detox method after receiving your specialized abdominal massage.
Disclaimer
Massage is given for the basic purpose of relief from muscular tension and relaxation. Any experience of pain or discomfort during the session, the receiver must advise their therapist so that the technique being used can be adjusted to their level of comfort.
The massage should not be considered a substitute for medical examination, diagnosis, or treatment, and one should see a physician or other qualified health care specialist for any mental or physical ailment they are aware of. The massage therapist will not diagnose, prescribe, or be responsible to heal physical problems that the client may be experiencing, and that nothing in the massage session should be considered as such. 
Price per session: 1,500 THB. for 2:00 hrs.
(approx. 45)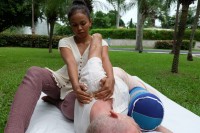 Thai therapy Massage
Here is a combination of relaxing Traditional Thai massage and Therapeutic Thai massage which promotes a deeper effect on the body. The method includes all kinds of Thai massage techniques that are needed for each person's conditions, relaxed muscles, energy lines work, acupressure points, and stretching.
Time duration: 2 hours and 15 minutes to apply herbal ball compressed to relax the entire body system at the end of the session.
Price per session: 1,000 THB. for 2:15 hrs.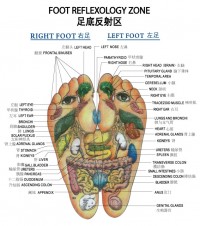 Thai Foot Reflexology massage
This Foot reflexology is a deeper type of Foot Massage using Thai and Chinese techniques. 
Waree works on a 70 point Chinese Foot reflexology program on each foot and combines it with Thai style relaxing foot massage. Waree has a real passion for this approach and what can be done through the feet. She also enjoys sharing her extensive knowledge and experience in her Foot reflexology course
This kind of treatment is suitable for people with the intention to slowly improve, re-functioning or re-balancing of entire energy flow, and who wish to improve via foot, due to any complicated body conditions, or as it's the grounded part of the body.
Price per session: 600 THB. for 1:30 hrs.