Abdominal massage with Foot reflexology, massage training
5 days intensive Thai Abdominal Massage course combining foot reflexology. A powerful detoxifying treatment.

Every first week of every month

Monday to Friday,5 days
7 hours a day, 35 hours in total
9:00 to 17:00 with a lunch break.
3 days: of intensive Abdominal healing massage course
1-day of intensive Foot Reflexology massage
1-day of how to combine both techniques
The price per person is THB. 20,000 (approx. €550/$600)                                   
Please note: if you bring along a partner to study with, it would be only THB 15,000 for each person.       
( Aprox. €415/$450)                                     
This course happening in the 1st week of each month.
this 5 days course is happening the 1st week of each month in Pai, Chiangmai and Koh Phangan.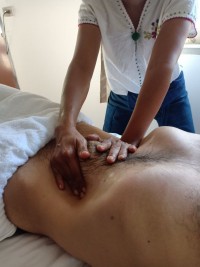 What is Abdominal Healing Massage?
Abdominal Healing Massage is a technique that helps release stress and promotes energy flow by massaging directly on the navel and surrounding abdominal areas. It is a technique that helps to normalize the natural flow of energy in the abdominal area by applying pressure to the area where the energy is stuck and releasing the nerve knots.
Your belly is the area where the most important body's internal channels cross paths with blood vessels, nervous system, and lymphatic glands.

Often called "the second brain", your belly has its own intelligence and due to thousands of neurons lining up the gut. Not only does it break down the food, digests, absorbs nutrients, and processes the waste, it also acts as a storehouse for your emotions.

Any tensions, anxiety, and other emotions you experience affect the functioning of the digestive system and internal organs and as a result, your energy flow becomes weaker.

Abdominal Healing Massage can help tremendously with the release of negative emotions that can cause serious damage to one's well-being. The massage works on both planes: physical, by providing a detox of your internal organs, and spiritual, by transmitting the energy blockages and stuck, unexpressed emotions.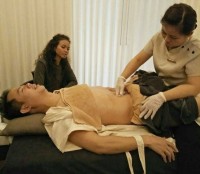 Waree supervising the instruction of a Spa Therapist.
Training of Abdominal Healing Massage
Learning how to practice this massage requires a lot of sensitivity and strong intention as you are going to deal with physical internal organs. Each organ has its own soul, you must acknowledge your intention to approach them.
Waree's way of teaching is very intensive, it is meditation in movement. Step by step moving around, all over the belly, and its connective points.
This course requires that you already have some experience in bodywork or any other kind of massage. Abdominal massage requires the practitioner to sense and feel the points. The practice of meditation is also welcome.

After the course, the trainer will give feedback to the trainees until they feel confident to apply the skills learned.
Waree is always happy to facilitate that you can repeat and deepen what you have learned. You can come back back to practice in the center under the supervision of the teacher by bringing your own model, or practice on the teacher herself if she has time.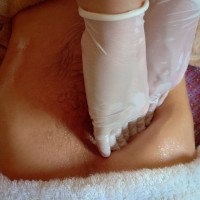 What students should be prepared to study for abdominal massage?
To take the abdominal healing massage course. You can just come with your bare hands. The only thing you need is to inform them clearly about your health condition, especially your abdominal condition. The teacher can then be aware of that and can do the best in setting the class.
We advice you to keep your stomach clean during the days of taking an abdominal class, for the benefit of the course as well as observing the effects of this kind of massage clearer.

What are the benefits of learning abdominal healing massage?
 From time to time, or when you feel uncomfortable in your abdomen, you can do self-massage as a primary solution. 
You can gently apply it to your family members, or friends, to share a good experience because the hand of love and intention (from you) on their abdomen will always be the best healing tool.
After our Abdominal Healing Massage course, you should be able to give a relaxing abdominal massage. You may have to practice a lot before you feel confident to give a massage. You always can ask your teacher for advice about a particular health condition that you are not sure how to handle. 
Abdominal Massage is a powerful massage method that can be applied to a person who is in a detox program. Allowing you to be a part of the process and help increase the efficiency of their detoxification period. 

Waree is always happy to share her passion for Thai foot massage, Reflexology and Acupressure.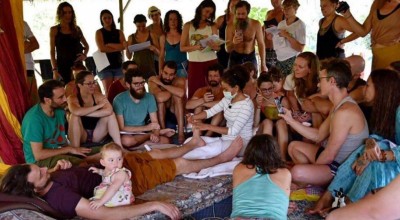 Waree's as a guest teacher at the Thai Massage Circus
Thai Foot reflexology is a deeper type of Foot Massage using sensitive Thai and Chinese techniques. We work on a 70 point Chinese Foot reflexology program on each foot and combine that with Thai style relaxing foot massage.
Foot reflexology is one of the holistic medicines to improve the whole system of the human body, by stimulating reflex zones on feet. Theories of reflexology are based on the thought that the tip of a human body reflects his whole body. When you stimulate a specific zone (reflex zone) on your foot, the stimulus reaches the reflected organ through the central or peripheral nervous system to raise an organic flow, set with energy balance between other organs, and finally raise the natural ability to cure themselves that the human body originally has. There are more than 70 reflex zones on feet.

Foot reflexology was found in ancient cultures such as Egypt and China. Over 5,000 years ago our ancestors massaged each other's feet. In the late 1800s, Europeans invented reflexology: applying pressure to a person's feet (or hands) in order to affect a physical change to the body. Placement of pressure is based on a system of zones and reflex areas that correspond to other parts of the body.
Also called "zone therapy," this mixture of healing art and science is based on the premise that an energy channel encompassing 12 vital organs exist from our feet to the tops of our heads. Applying pressure with hands, a reflexologist unblocks the channels to restore more optimal health and organ function.
Foot Reflexology Massage would use the finger or knuckles to press down on each reflex point. There are more than 70 reflex zones on each foot. Each point is a nerve ending that is linked to important organs in the body and there are more than 70 sensations. 

What Thai Foot Reflexology Massage helps with?
Foot reflexology improves the health condition of the whole body as below:
Gradually fixes hormone balance by stimulating the endocrine system.

Raises resistance against pathogens by stimulating the immune system.
It helps improve the digestive system's organs.
Prompts urinary organs to filter waste materials from the blood, and to release it with urine.
Effects of foot reflexology include those of foot massage. To make the circulation of blood and lymph flow better, to promote the resolution and excretion of accumulated waste material, to take fatigue off muscle, and to ease swollen feet. All are very important.
As the foot is the farthest part from the heart and is usually in the lowest area in the body, waste materials are easily accumulated due to poor circulation of blood and lymph. Foot reflexology breaks and softens structures of the foot which become tense with the deposit from its strong pressure, pick it up and blood and lymph stream, and finally drain it from kidney.
What are the potential benefits of learning Thai Foot Reflexology Massage.
You can explore the organ reflex points and apply them as self-massage.
You can use it with your family members or others.
After our Thai Foot Reflexology course, if you show some promise, you should be able to give a relaxing foot massage, as you will know all the points and basic knowledge to deal with common harmless ailment.
Generally, reflexology is very safe, even for people living with serious health conditions. It's non-invasive and comfortable to receive, so you may easily offer your treatment to any kind of holistic organization that you approach.
Foot reflexology is one of the powerful massage methods to be applied to a person who is in a detox program, so you can help with the process.

Why combine Abdominal and Foot Reflexology together?
This combination, of course, is useful to present the method to accelerate detoxification of the body system by stimulating reflex zones on the foot, specified work on areas of blockage, and to promote the draining of toxins from the system. so we going to learn 70 reflexes foot zone and this process is followed by an abdominal healing massage that wakes up internal organs directly and improves the detox process. You are going learn ho to hand-on belly massage on each specific area in the abdomen cavity. As well as some techniques to ends the treatment with working on energy lines or points that needed to facilitate the flow. This program is one of the most powerful types of therapy to be presented. It's suitable also for people who are in a detox period or program.