Abdominal Healing Massage Training by Waree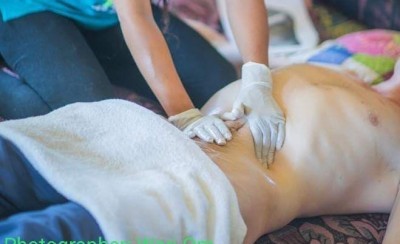 6 days intensive Abdominal massage course
The first week of every month, from Monday to Saturday
6 days
5 hours a day, 30 hours,
9:00 to 15:00 with a lunch break.

 This course suitable for any person who intends to be a therapist of this type of massage. The class is fully hands-on, with intensive practice on each point and organ to make sure all techniques and sensations are on the right path. The students will receive guidance in each specific acupressure point from the teacher directly, then practice on other people under the close supervision of the teacher. This course is taught in a very small group, with a maximum of 4 people.
The price per person is THB. 20,000  (approx. 590€)

Please note, that if you bring along a partner to study with, it would be 30,000 for the 2 of you.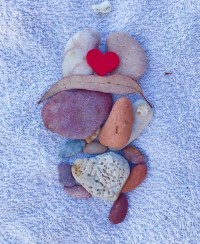 An artistic representation of internal organs by Chiharu Shanti
Abdominal massage course curiculum
Day 1: Introduction to Abdominal massage. Anatomy of internal organs related to emotions. Observation of the body. Theory of 10 main energy lines that begin form abdomen area.  Interview and intake assessment list protocol. Additional focus on particular health conditions. 
Day 2: Practicing on the preparation part learned on day 1. Work on the right side of the abdomen.
Day 3: Practicing on the left side of the abdomen. 
Day 4: Practicing on the center part of the abdomen. 
Day 5: Practicing the whole sequences for different cases of abdominal treatments and particular health conditions.
Day 6: Review and practice all areas of learning and how to adapt to the different cases and needs of the body.  
This course happening in the 1st week of each month.
This 6 Day course is happening the 1st week of each month, from 09:00 - 15:00. along with evening drop-in class about reflexology points, from 17:00 - 19:00.
More information here:
Waree's 1st week of the month Schedules
The main course: Abdominal Massage
  Mon. - Sat. 9:00 – 15:30, 1:30 Lunch break, 5 hours/day 6 days, 30 hrs.
Evening class: Reflexology points
  Mon. – Sat.,  17:00 – 19:00, 2 hours /day.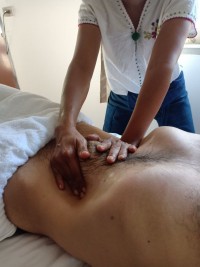 What is Abdominal Healing Massage?
Abdominal Healing Massage is a technique that helps release stress and promotes energy flow by massaging directly on the navel and surrounding abdominal areas. Abdominal Healing Massage is a technique that helps to normalize the natural flow of energy in the abdominal area by applying pressure to the area where the energy is stuck and releasing the nerve knots.
Your belly is the area where the most important body's internal channels cross paths with blood vessels, nervous system, and lymphatic glands.

Often called "second brain" your belly has its own intelligence and due to thousands of neurons lining up the gut not only it breaks down the food, digest, absorb nutrients and process the waste, it also acts as a storehouse for your emotions.
So any tensions, anxiety and other emotions you experience affect the functioning of the digestive system and internal organs and as a result, your energy flow becomes weaker.
Abdominal Healing Massage can help tremendously with a release of negative emotions that can cause serious damage to one's well-being both. The massage works on both planes: physical, by providing a detox of your internal organs, and spiritual by transmitting the energy blockages and stuck unexpressed emotions.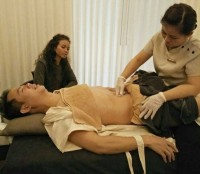 Waree supervising the instruction of a Spa Therapist.
Training of Abdominal Healing Massage
To learn how to practice this massage requires a lot of sensitivity and strong intention as you are going to deal with physical internal organs which each organ have their own soul or acknowing your intention to approach them.
Ware's way of teaching is very intensive. It is a meditation in movement. Step by step moving around all over the belly and its connective points.
This course requires that you already have some experience in bodywork or any other kind of massage. Abdominal massage requires from the practitionner to senses and feel the points, and other bodies. The practice of meditation is also welcome.

After the course, the trainer would give feedback to the trainees until she or he feels confident to apply the learned skills.
Ware is always happy to facilitate that you can repeat and deepen what you have learned. You can come back back to practice in the center under the supervision of the teacher by bringing your own model or practice on the teacher herself if she has time...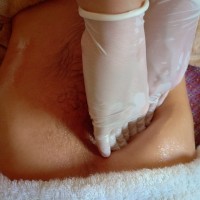 What should a student be prepared to study an abdominal massage?
To take the Abdominal Healing massage course. You can just come with a bare hand, the only thing you need to do is to inform well about your own health condition especially your abdominal condition. So the teacher can be aware of that, therefore, we can do the best in setting the class.
Another thing to remind you that you should keep your stomach as clean as you can during the days of taking an Abdominal class, therefore to benefit the time of the class as the most.
What are the potential benefits of learning Abdominal Healing Massage.
As you know the benefit of keep on stimulating internal organs in your abdomen, time to time or when you feel uncomfortable in your abdomen, you can just do self-massage as a primary solution.
You can apply gently to your family members or friends to share a good time because the hand of love from you on their abdomen is always will be the best healing tools.
  After our Abdominal Healing Massage course, you should be able to give a relaxing abdominal massage. You may have to practice a lot before you feel confident to give a massage. You always can ask advice to your teacher for particular health condition that you are not sure how to handle. 
As you know that Abdominal massage is a powerful massage method to be applied to a person who is in a detox program, so you can be a part of the process and help increase the efficiency to their detoxification period. 

Thai Foot Reflexology Course in Chiang Mai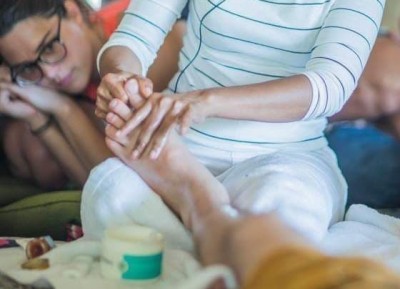 Foot Reflexology courses schedules with Waree
The second week of every month, from Monday to Friday - 
5 days,
4 hours a day, 20 hours, 9:00 to 13:00.:

8,000 baht (approx. 240 €)

  This course suitable for a person who intends to give this type of massage professionally. Our teaching style is fully hands-on to demonstrate techniques and methods. We give instruction about the structure of the foot and all reflexology points. Students will learn how to work intensively on each point until they understand the way to treat each particular ailment in general (ie. non-harmful symptoms which foot reflexology massage can be applied on).
Day 1: Learn about reflexology zoning points and positions on the foot, anatomy and the functions of each organ related to each zone.
Day 2: Learn how to apply the techniques of a relaxing Thai foot massage while combining it with reflexology zones.
Day 3: Continue learning and practicing how to apply the technique of a relaxing Thai foot massage while combining with reflexology zones.
Day 4: Learn how to apply the technique of relaxing Thai foot massage with a balancing finishing sequence. Instruction on combining groups of reflexology points to heal a particular disorder, including 10 external organ ailments and 10 internal organ ailments.
Day 5: Practice all sequences in a 1.5-hour session, allowing therapists to utilize and exercise what they've learned in a typical working time frame. Additional Thai acupressure points on the foot will be also be taught on the final day.